Quality Residential Roofing Services
A strong roofing system is the most essential feature of a home. Eclipse Roofing and Construction LLC can handle your residential roofing needs, whether you need repairs, new installation or maintenance. Our family-owned business has over 25 years of experience in the roofing industry to better serve you. We also provide professional gutter services for our clients and can take on some commercial roofing projects, including repairs.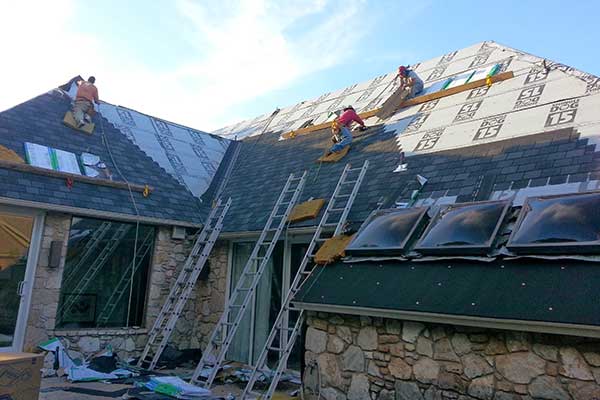 Roof Replacement
Some roofs have sustained enough damage to warrant a roof replacement. Roof replacements are necessary when your entire roofing system is failing. You may see moss growth on your roof, bald shingles that are missing their granules or a sagging roof.
Eclipse Roofing and Construction LLC can help you determine if you need to consider replacing your roof. You can trust our team to give you an honest and professional opinion regarding the condition of your roof, and whether roof replacement is the more cost-effective option.
Roof Repairs
All types of roofing damage can cause problems in a home. If your roof leaks, it can result in mold growth, damaged drywall and even cause the framing of your home to rot over time. Broken or curling shingles, compromised flashing and hail damage can all lead to moisture infiltration of a roof.
Sometimes, roofing damage is more apparent, such as structural damage from inclement weather or missing patches of shingles. No matter what kind of roofing damage you're seeing, Eclipse Roofing and Construction LLC can help you identify the problem and put a solution in place.
Contact Us Today for a Free Estimate
Whether you need a roof inspection or maintenance, contact Eclipse Roofing and Construction LLC to book a complimentary estimate for residential roofing services. Call us at (405) 605-0805 or get in touch using our online contact form and we will reach back out to you shortly.